The first and only fully autonomous health and eye screening designed to help health plans and providers perform diabetic retinopathy evaluations and discover other visual and health problems.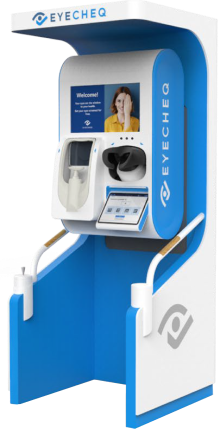 Join the EyeCheq Network
Whether you are a health plan or provider, become a partner to get connected with new patients who are in need of care today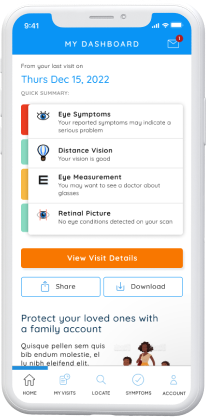 The EyeCheq device performs 4 FREE tests that can help detect issues with your vision and your health.
Check your eye symptoms to discover any issues and possible treatment options
The eye chart test allows you to understand how well you are seeing
The eye measurement test can identify visual issues that may require glasses or contact lenses
A retinal picture can uncover health conditions like diabetes and high blood pressure that can affect your vision and body.
Meet your HEDIS measurements and elevates your STAR rating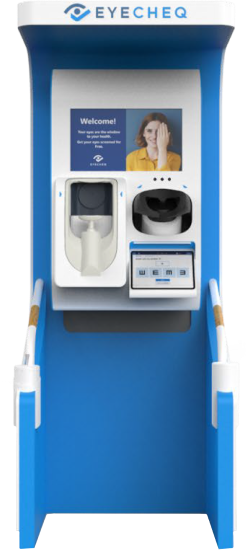 No staff training or time required
Place anywhere in the office (even your waiting room)
Places you can find EyeCheq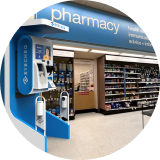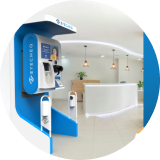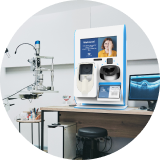 Why this is important...
Less than 50%
of patients are getting the required diabetic retinopathy evaluations.
Early Detection
and treatment can prevent blindess caused by diabetic retinopathy.
+35 Million
people in the US are at risk for sight threatening blindness from diabetes.
How our Partners Benefit
Easy
No training or implementation time required to screen patients
Close Care Gaps
Closes the diabetic retinal exam care gap for HEDIS/Star quality measures
Reimbursable
Dedicated CPT codes 92228,92229
Affordable
No large upfront cost, simple monthly payment
Screen Everyone
No staff required to screen every patient for eye conditions
Are you a health plan or healthcare provider looking to partner with EyeCheq for Diabetic Retinopathy Evaluations?